Main content starts here, tab to start navigating
Thanksgiving x Citizen
***IF YOU ARE LOOKING TO PLACE A THANKSGIVING 2020 ORDER, PLEASE GET IN TOUCH VIA THE 'CONTACT US' PAGE***
Celebrate Thanksgiving the Citizen way! We are offering everything from whole roasted pigs, to a la carte sides, expertly-crafted cocktails and tasty desserts.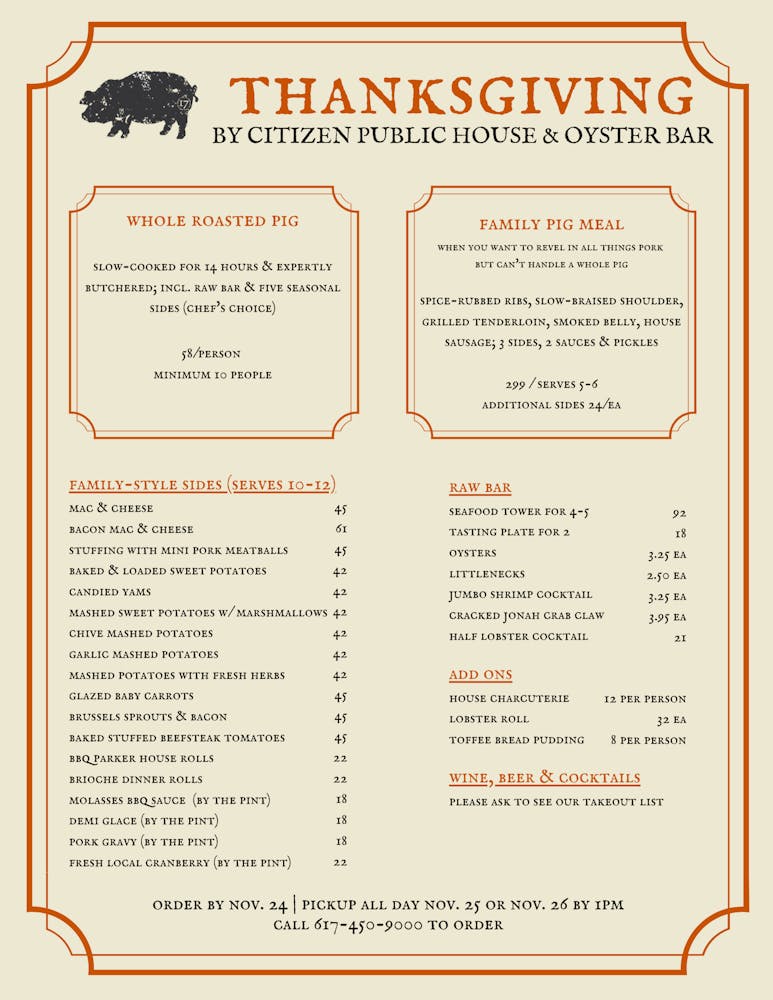 how to order
Place your order by phone (617-450-9000), through our website, or in-person by Tuesday, November 24, 2020.
Orders can be picked up all day Wednesday, November 25 (cold), or Thursday, November 26 before 1 PM (hot & ready to eat).
Delivery within a 12-mile radius is available for an additional fee of $40.
whole roasted pig dinner
A true showstopper from start to finish. This may become your new Thanksgiving tradition.
Local Oysters & Clams (shucked) and Jumbo Cocktail Shrimp
Whole Suckling Pig, slow-roasted for 14+ hours and expertly butchered into tasty roasted loin, pulled shoulder, BBQ ribs, cracklin's & more
Chef's Selection of 5 Seasonal Sides (a variety of veg & starches)
58 per person for a minimum of 10 people
Family pig meal
For smaller groups that want to revel in all things pork, but can't handle a whole pig
Your pig dinner includes spice-rubbed ribs, slow-braised shoulder, grilled tenderloin, smoked belly, house sausage; choice of three sides, house BBQ sauce & one more sauce, and house pickles
299 // serves 5-6
Additional sides that feed 5-6 available for 24/ea
family-style sides
serves 10-12
Mac & Cheese // 45 (with bacon +16)
Stuffing with Pork Mini Meatballs // 45
Sweet Potatoes // 45
- Your choice of: Baked & Loaded | Candied Yams | Mashed with Melted Marshmallows
Mashed Potatoes // 42
- Your choice of: Chive | Garlic | Fresh Herbs
Vegetables // 45
- Your choice of: Glazed Baby Carrots | Brussels & Bacon | Baked Stuffed Tomatoes
Half portions that serve 5-6 also available upon request
more sides
Gravy & Sauces // 18 per pint
- Your choice of: Molasses BBQ Sauce | Demi Glace | Pork Gravy | Fresh Local Cranberry +4
Bread for 10 (or fewer, with leftovers) // 22
- Your choice of: BBQ Parker House Rolls | Brioche Dinner Rolls
cocktails
Winter Sangria // 46 (serves 4)
Ideal Manhattan // 26 (serves 2)
To-Groni // 22 (serves 2)
Everything you need to make two Tennessee Gold cocktails from Uncle Nearest at home // 36
Wine & Beer
Truchard Vineyards Sauvignon Blanc // 38
Esterhazy Gruner Veltliner // 42
Leeuwin Estate Siblings Shiraz // 46
Requiem Cabernet Sauvignon // 50
Ramey Woolsey Road Chardonnay // 88
Allegrini Amarone // 99
Mixed 4-Pack // 22
'Champagne Bottle' of Miller High Life // 12
Tecate can // 5
Night Shift Lime Lite can // 6
Ghost Fish Grapefruit IPA (gf) // 8